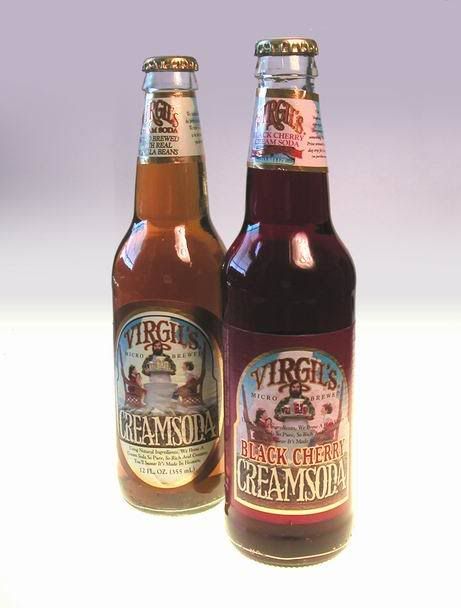 Virgil's Soda is some of the best stuff you can buy. It has all-natural ingredients, nothing artificial at all. You can find this at most health-food markets, and please, try to find it! Virgil's uses glass bottles instead of plastic, which is so much better for the environment. It's preservative free, and Micro-Brewed. It comes in a whole bunch of flavors, such as cola, and root-beer. What's not to love?
TASTE
This is all-natural cherry flavor, combined with the smoothness of cream-soda. This is some of the best soda I have ever tasted, simply because it is so pronounced and bold. When you take your first sip, you feel a rush of intense cherry flavor, that tastes like a REAL cherry, not that fake-ass artificial crap that tastes like the same cherry over and over. It almost seems like you have a different flavor experience every time you take a sip, which makes for a surreal experience. The Cream-Soda combination helps the cherry flavor a lot, subtly mixing the two, making for a soft, original taste. This is the BEST Cream-Cherry flavor you will ever drink.
90/100
TEXTURE
Virgil's Black Cherry Cream Soda has a very smooth, soft texture to it. This is due to it being Micro-Brewed. It has the perfect level of carbonation for its flavor. It has about as much carbonation as a light beer, which is nice, as it suits the Black Cherry/Vanilla Soda flavor VERY well. Virgil's is very relaxing to drink. You have got to try this brand just from the fact that it's Micro-Brewed. It really does make a huge difference.
95/100
PACKAGING
Virgil's has a lot of information on their packaging, advertising all of the redeeming qualities that it has.
On every bottle of Virgil's Soda there is Old-Time font, which adds effect to an already incredible soda-drinking session. The front displays a painting of a heavily-bearded man, serving a tray of soda to some children. This is really creative, and I'll be damned to find a more entertaining art on soda.
100/100
OVERALL EXPERIENCE
This is an excerpt taken directly from the bottle:

Virgil's Black Cherry Cream Soda is a classic cream soda recipe made naturally using the finest vanilla beans and unrefined cane sugar. The brewing process gives Virgil's a rich, creamy body and taste so pure, you'll swear it's made in heaven.

I couldn't have put it better myself.
FINAL SCORE
TOPAZ AWARD
95/100